Tree Removal and Tree Care Services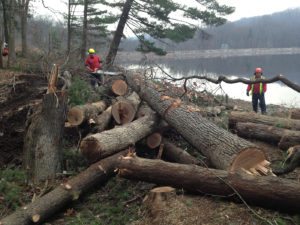 Coba Services provides professional tree removal, pruning, and stump grinding. Our company is fully insured and experienced with removing dangerous trees and/or tree limbs. Please Contact Us for a free estimate on all of your tree care or tree removal needs.
Tree Removal
Cutting down trees can be dangerous, and some trees are dangerous all on their own. Dead and decaying trees that are no longer as sturdy as they used to be run the risk of falling over of their own accord, potentially damaging your property or even you. This is especially true in the midst of a storm, where high wind speeds can push a tree past it's breaking point. That's why we offer to tree removal any of your dangerous trees before thy get the chance to damage you or your property. Our professionals only use the best equipment to ensure the safe removal of any tree. We can also remove tree limbs if cutting down the entire tree is not necessary.
Tree and Shrub Pruning
While not as hazardous as tree removal, pruning is still a tedious and time consuming process. Relax, and let us take care of it for you. Our tree service professionals know a variety of techniques and proper pruning methods that are sure to keep those overgrown shrubs in line.
Tree Stump Grinding
After the first stage of tree removal there still remains the problem of an unsightly stump. Well we have the gear to take care of that too. Our top of the line grinders will grind that stubborn stump into nothing but dust. Afterwards you can turn the spot where the stump used to be into a fertile location to plant flowers or anything else of your choice. Stump grinding rounds out our complete tree removal process.
If you are in need of our tree services please Contact Us and we can get started.Our services are available to Roseland, West Orange, South Orange, Livingston, Montclair, Chester, Short Hills, East Hanover, Randolph, Whippany and surrounding areas